A Proven Analytics Foundation Optimized for Retailers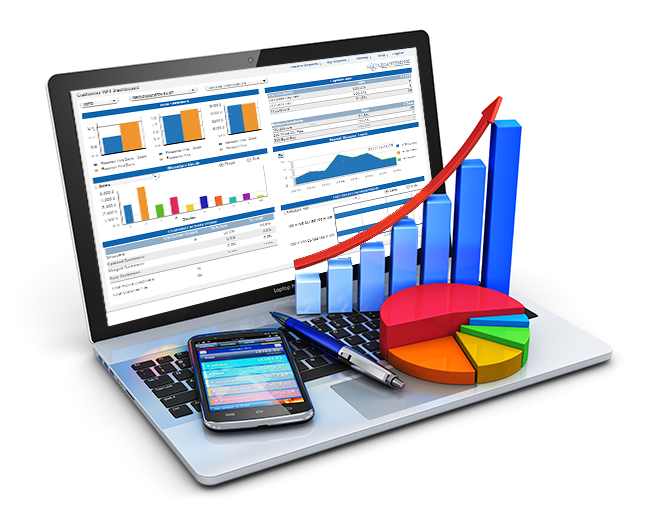 Designed to help retailers jump start their BI initiatives, QuantiSense Retail Business Intelligence (RBI) fills the gaps for retailers that lack an existing data warehouse or data model. This proven data foundation includes a multi-channel, multi-company, multi-currency data warehouse, enterprise data model, ETL and pre-built operational retail reports with countless KPIs.
By working with QuantiSense, you can start reaping benefits from business intelligence in as little as 60 days while adopting a solid foundation for future growth.
No Data Warehouse? No Problem
QuantiSense Retail Business Intelligence features a retail data model designed and tuned based on decades of retail experience. The model houses key data common across all retailers and is quickly configurable for the unique business practices of your retail operation. The data warehouse also contains unique features, such as QuantiSense's inventory compression, which reduces storage needs to a fraction of the size of traditional data warehouses and greatly increases system performance and response times.
Our out-of-the-box Extraction, Transformation, & Loading (ETL) systems include a staging area and pre-built connectors that streamline the effort of mapping source systems into the QuantiSense data warehouse. The result is outstanding performance that speeds queries and rapidly provides insight to business users. QuantiSense ETL is also designed to populate a QuantiSense data warehouse residing on a broad range of target database platforms, including Netezza, SQL Server, Teradata and more.
Integrate Retail Data from any Transactional System
Leading retailers are using the QuantiSense suite with a wide variety of source data systems – both packaged and homegrown – for retail merchandising, warehouse management, forecasting and inventory replenishment information. QuantiSense has interfaced with dozens of systems from industry leaders such as JDA, Manhattan Associates, Island Pacific, Oracle, SAS and STS, as well as countless legacy systems.
And since the QuantiSense solution can be installed behind your firewall – integrating with your enterprise network and access management – or accessed via cloud delivery as Software-as-a-Service (SaaS), you control how the software fits in your overall IT environment.
Expand Your Analytics Across the Enterprise
A configurable framework, QuantiSense Retail Business Intelligence is designed to extend beyond merchandising and store operations data to any area of your retail enterprise. You can expand analytics to include any department, such as marketing, accounting and finance, supply chain, sourcing, human resources and real estate – the possibilities are limitless.
Marketing/CRM:
With customer analytics, your promotions, loyalty program and campaign managers can plan and execute more effective merchandising and promotions based on insights gained from data on customer loyalty, sales transactions, registries, wish lists and surveys along with store performance. By combining vendor analytics, market basket analytics, data from CRM systems, email management solutions, and data from third party vendors, retailers are enabled to create a comprehensive customer data repository. By sharing data with upstream partners, marketers and merchandisers can also collaborate with suppliers on trade promotion management.
Accounting and Finance:
Controllers and financial analysts can use analytics across payables, receivables and the general ledger to improve cash flow, enhance financial performance, control costs, maximize profitability and boost sales.
Loss Prevention:
Your team can take loss prevention to the next level with fraud detection across all channels and multiple systems – even at very granular detail like cashier-level transactions. QuantiSense enables multi-channel loss prevention analytics in the areas of returns, refunds, voids, discounts & price overrides, coupons, gift cards, employee sales and more.
Human Resources:
Using standardized performance measurement analytics and dashboards for setting personal personal performance goals, store management personnel can more quickly on-board new hires and provide best-practices training.
Store Operations:
Improve talent management by tracking employees, wages and even sales contests and other incentives designed to motivate associates to improve customer service, increase top line sales or promote specific items. Track sales per square foot and linear foot for departments and sub-departments at each of your locations. Apply floor space zone attributes to your sales and inventory data, to tune floor sets and plan-o-grams to customer purchasing patterns and the availability of inventory.
QuantiSense also enables integration your workforce time & attendance data and recommends actions that improve workforce management, labor efficiency, enhance workforce scheduling, help manage & monitor budgeted hours, and facilitate development of store management and staff. With QuantiSense you can ensure the right staffing levels, at the right time of day, every day of the year. In a single view, you can compare traffic, conversion, dollars-per-transaction, and sales, for a store, a region, or even an entire banner of your retail enterprise.
Pricing:
Merchants can easily track price and markdown status by item and location over time, providing the ability to analyze pricing structure across the chain with overrides by store and zone. External pricing data -- such as from competitive price monitoring services -- can also be integrated and compared against current and historical pricing to deliver insights about how competitive pricing affects sales, store traffic, customer loyalty, and more, enabling the optimization of pricing & markdown strategy.
Sales:
Instead of cumbersome paper reports, executives can analyze dynamic timeframes for time series, period-to-date and period-over-period comparisons across geography, location, time and vendor. The QuantiSense solution also integrates pre-audit sales data for more rapidly delivered "flash sales" results, with the ability to substitute audited data as soon as it's available.
Sourcing:
Procurement and sourcing managers apply analytics to improve shipment visibility, automate processes and collaborate with suppliers.
Supply Chain/Logistics:
Transportation and logistics managers leverage powerful analytics that review merchandising and store operations trends in order to minimize stockouts, reduce costs and improve overall supply chain performance. Analytics can extend to additional upstream supply chain data sources, including WMS and RFID feeds for locating shipments and inventory wherever it exists in the extended enterprise.