Q University: Training for a Rapid Retail Analytics ROI
At QuantiSense, retail is the only language we speak. Our trainers are ready to help your Buyers, Planners, Allocators and Store Operations team understand how to leverage retail analytics to quickly gain insight, identify recurring issues and take advantage of market opportunities.
Q University provides a complete and efficient learning path that begins with Introductory Courses during implementation and ends with Workshops that support the rollout of your QuantiSense solution. The program offers both beginner and advanced user education, helping retailers instill industry best practices and overcome high turnover with a variety of training offerings.
From Introductory Courses to Rollout & Advanced Workshops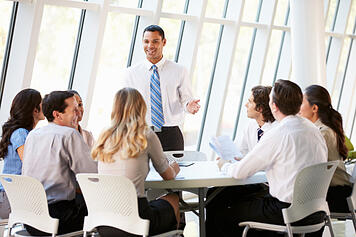 Successful training provides a deep understanding and strong adoption of the QuantiSense software. To achieve this, we deliver the information the way your end users expect it: on your data and in the context of how you run your business. Introductory Courses provide a general overview of Retail dashboards, Retail Playbooks™ and Reports. Our Rollout Workshops offer a more in-depth review of the QuantiSense solution, equipping business users to achieve a rapid ROI. We customize each workshop to provide analysis tools that reflect management's objectives, driving accountability and teamwork.
Our team is comprised of expert personnel (lifetime retailers who have performed the same roles as your organization's end users) who can best assist the people on your team who will actually use the QuantiSense software. In addition, our Professional Service team works directly with your IT staff to acquaint them with the tools and management consoles used to maintain and enhance your implementation on an ongoing basis. It's our goal to provide the right level of training to ensure your organization gets the maximum value from its retail analytics solutions.