Leverage Multi-Channel Retail Insight to Improve GMROI and Customer Experience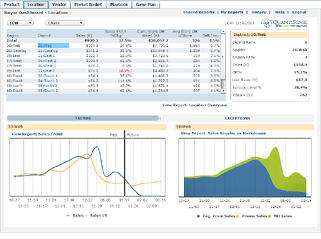 As a retailer, it is not only important to understand how each direct-to-consumer channel performs individually, but also how each channel performs against one another. With a comprehensive multi-channel view, departments across your organization will have the analytics and insight needed to make more profitable decisions.
The challenge is performance metrics across channels vary so greatly, a simple apple-to-apple comparison is simply not effective. With QuantiSense's Multi-Channel Analytics, your entire team can now have access to deeper insight into demand, backorders, cancellations, shipped sales and returns across all channels, delivering the insights you need to rapidly and efficiently fulfill customer orders and provide a superior experience.
Here's How Your Team Can Benefit from Multi-Channel Analytics:
Merchant Team:
Your Merchant Team will be able to see demand and better manage orders across all channels, pool your buys across all of them and intelligently re-allocate merchandise to meet consumer demand. By leveraging a single view of inventory across all channels, you'll drive additional sales, preserve margins, improve fulfillment and increase service levels.
Store Operations Team:
The Store Operations Team can increase sales and provide a better experience for shoppers by placing direct-to-consumer orders in stores for items that have stocked out or are only available online or through your catalog. By tracking these transactions by store and associates, QuantiSense can help you build an effective incentive program.
Marketing Team:
Combining Multi-Channel Analytics with market basket insight helps your Marketing Team decide which items to suggest to customers during ecommerce transactions. By understanding sales yield per square inch and the effect of featuring different items and assortments your marketing team can make better catalog and web "real estate" decisions.
Integrate Web Analytics for Deeper Insight
In addition to the e-commerce sales, order management, and supply chain analytics, QuantiSense enables you to integrate web traffic data to deliver even deeper insights. Analyses enabled include web visits, social media referrals and interactions, sessions, conversions, shopping cart detail, cart adds, cart abandonment, page views, clickstream, unique visits, and more for improved management of website performance. Q Direct can also integrate cutting edge data sources – differentiating between mobile phone, tablet, and traditional web browser shoppers, and weaving in location sensing data (such as iBeacon data) for the deepest undertanding, segmenting, and targeting of your multichannel shoppers.
Ready to pump up the performance of your direct-to-consumer (D2C) channels? Contact QuantiSense today to learn more about Multi-Channel Analytics.