Merchandising Executives: Retail Analytics That Help You Drive Operational Excellence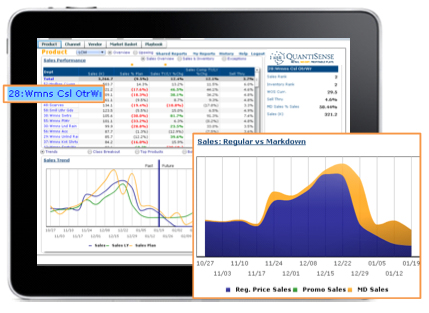 Merchandising executives enjoy a fresh approach to retail analytics with QuantiSense. Using Playbooks, merchants can finally combine business intelligence with industry best practices to drive operational excellence. From department to item, mall location to ecommerce channel, vendor to private-label, year-over year performance to a specific time of day, you have all the data, with reporting that highlights exceptions and recommends actions.
Merchandising Solutions
With our corporate dashboards, General Merchandise Managers (GMMs) and Divisional Merchandise Managers (DMMs) have the insight to increase sales and better manage inventory. GMMs, have business intelligence that helps ensure the right high-level product mix across the chain – maximizing profitability. DMMs are equipped to efficiently manage the performance of key departments, as well as the buyers, and take the right actions, at the right time.
In addition to merchandising executives, QuantiSense offers Playbooks for the entire team, including Buyers, Planners, Allocators , and Store Operations. From executive to analyst, now everyone across the enterprise measures the business using the same centralized retail KPIs and speaks the same language.