Optimize Your Planning, Buying and Allocation Decisions with Deeper Customer Insight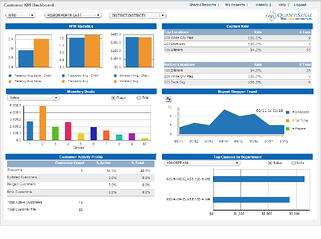 Customer Centricity works in tandem with customer relationship management (CRM) systems to develop or enhance retailers' understanding of what their different customer segments are and how they are performing. While traditional CRM systems help retailers manage customer data, Customer Centricity dives deeper than CRM systems to deliver specific analytical data about your customers based on their actual shopping interactions across your chain, getting your entire team—from high-level executives and chief marketing officers to merchant and store organizations—on the same page.
With Customer Centricity, your company can:
Replace anecdotal or generic customer segments with concrete analytic data proving who your customers really are based on purchasing patterns, channel and merchandise affinities
Better understand where you're attracting high-value customers and where you need to re-focus efforts
Ensure you're sending the right product to the right stores at the right time—based on customer demand within your most important segments—reducing inventory problems and avoiding markdowns
Create and use multi dimensional, multi level customer segments to better understand who is shopping in your store and where. Compare company level segments to store level segments to better assort each store and improve local customer satisfaction.
And much more!
Retailers Are Using Deeper Customer Insight to Drive Results
A detailed understanding of the shoppers purchasing your merchandise helps attract and retain the most profitable customers, leading to more productive inventory and higher profitability. Click here to see how one men's apparel retailer used Customer Centricity to see beyond obvious customer commonalities, allowing for more accurate store performance evaluation, detailed size and style-level analysis and increased employee productivity.
The QuantiSense Playbooks™ Customer Centricity Module Includes:
Local Segmentation Plays: Gain insight into how well you're attracting customers by region, store, department and more
Customer-Centric Localized Assortment Plays: Customize store inventories based on what customers are actually buying, not simply where stores are located
Key Customer Stockout Plays: Ensure your highest value customers always have the right inventory available to them when they want it
Marketing-focused merchandise and location insights, segments and other critical exceptions
The Customer Centricity module adds additional insight to other must-have QuantiSense retail Plays, including inventory productivity, market basket analysis or localized assortment modules.
Contact us today for more information regarding the benefits of incorporating customer centricity in conjunction with other QuantiSense modules.